Sign Select has an art fabrication studio, with access to the proper resources, specialized machinery, and labor necessary to execute particularly complex projects.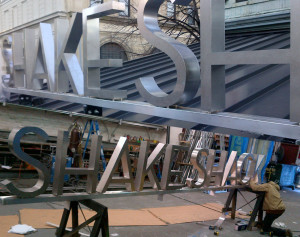 In our technical world, graphics are an essential way to communicate information. Here at Sign Select, our designers and artists have been at the vanguard of modern signage innovation. Being able to create, evaluate, organize and disseminate visual messages to a broad audience. From concept to completion our Graphic designers work with your drawn, painted, photographed, or computer-generated images to communicate ideas in order to convey a message from a client to a particular audience. 
Awnings, sometimes referred to as canopies, are a great way to gain exposure for your business. Commercial Awnings provide a professional appearance while simultaneously promoting your business. If you have an existing awning for your business, Sign Select can help you recover or repair your awning and make it look new.
An awning is an architectural projection that provides weather protection, identity or decoration, and they are typically supported by the building on which they are attached. An awning is comprised of a lightweight, rigid skeletal structure over which a fabric cover is fastened to shelter windows, doors, decks, and walkways.
Fabrication Specializations
However you would like to convey your message we can prepare & produce your design for a variety of fabrication, or installation technique.
Canopies
Awnings
Dimensional Fabrication
Signage
Graphics
Entrances  
Structure Fabrications
Pop Displays
Displays
Table Top Displays
Exhibits
Custom Fabrications